24janAll DayIMPACTPapeRec Project Conference and Networking Informative Meeting(All Day: tuesday)
Event Details
IMPACTPapeRec invites you to join the Project Conference and Informative Meeting to be held 24 January in Barcelona, Spain. Join both events to learn more and share your ideas to increase separate collection of paper for recycling in Europe.
Attendee take aways:
Who should attend
Personnel involved in recycling and sustainability issues working at the Paper Industry, EU Municipalities, Waste Management Companies, Policy Makers, Standardization Bodies and Citizen Associations.
Registration and further info
Registration to these events is free of charge in the framework of the IMPACTPapeRec project supported by the EU. Please click here and fill in the registration form to book a seat in the Project Conference and/or the Networking Informative Meeting.
If you need further support or information, please contact the local organizer ITENE by e-mail (registro@itene.com) or phone 0034 96 182 00 00.
Date and location
The IMPACTPapeRec Project Conference and Networking Informative Meeting will take place 24 January at:
Museo y Centro Estudios del Deporte Doctor Melcior Colet


Carrer de Buenos Aires, 56 (08036 – Barcelona, Spain)
Recommended Accommodation
H10 Art Gallery (4*, 110-120€) – 10 minutes walking to Project Conference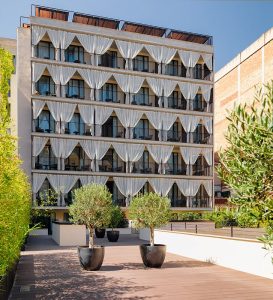 Other hotels in the city:
more